Term of the Day
Today • September 22
JVM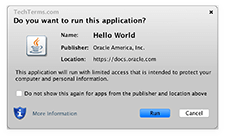 Stands for "Java Virtual Machine." A JVM is a software-based machine that runs Java programs. It can be installed on several different operating systems, including Windows, OS X, and Linux. JVMs allow Java apps to run on almost any computer. ... Read More
Today's Quiz Question
Which of the following media compression codecs is an audio codec?
About TechTerms.com
TechTerms.com is a free online dictionary of computer and Internet terms. Each definition is written using everyday language, to make technical terms and advanced concepts easy to understand. Learn more about TechTerms.com.
Get the Tech Terms App:
Related Sites
TechTerms Newsletter
Subscribe to the daily or weekly newsletter and get featured terms and quizzes delivered to your inbox.
Recent Updates
August 21, 2023

View the full list of macOS versions

August 18, 2023

Added a quiz question to each definition page

July 1, 2023

Published new quizzes for Q3 2023

April 17, 2023

Learn how to correctly use the top ten misused tech terms

March 30, 2023

Learn how to correctly write the top ten misspelled tech terms

March 27, 2023

Published redesigned quiz section

February 13, 2023

Published TechTerms.com author profiles

December 27, 2022

Improved the embeddable Search Box you can add to your website

November 1, 2022

Version 2.0.1 of the Tech Terms Android app is now available

October 1, 2022

Published improved quiz section with categorized 10-question quizzes