Term of the Day
Today • June 7
Boot Disk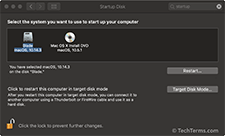 A boot disk, or startup disk, is a storage device from which a computer can "boot" or start up. The default boot disk is typically a computer's internal hard drive or SSD. This disk contains files required by the boot sequence as well as the ... Read More
Today's Quiz Question
Which of these variables is written in snake case?
TechTerms Newsletter
Subscribe to the daily or weekly newsletter and get featured terms and quizzes delivered to your inbox.
About TechTerms.com
TechTerms.com is a free online dictionary of computer and Internet terms. Each definition is written using everyday language, to make technical terms and advanced concepts easy to understand. Learn more about TechTerms.com.
Get the Tech Terms App:
Related Sites